Total novelty and super innovative product in the style of "you don't know you need it until you see it!"
Leather glove for make-up artists and stylists GOOD LUCK MUA is:
work hygiene - your hand will always be clean
professional look - looks beautiful on the hand
reliable Must Have - you won't be able to imagine work without it ♥
Glove for make-up artists "GOOD LUCK MUA" is an original project invented for make-up artists, eyelash stylists, hair stylists, nail stylists, eyebrow stylists, tattoo artists and permanent make-up stylists.
The glove is primarily used for hygiene purposes. You can apply wet-texture cosmetics (including creams, foundations, lipsticks, eyeliners, shadows, concealers, false eyelashes, paints, watercolors, henna and other products used for makeup and styling) on ​​the glove and then apply them to the face.
The glove is specially designed to avoid applying products directly to the hand. It organizes and facilitates the work of a specialist and reduces contact with the skin. Invented so that the specialist's hand remains clean during the performance of the service.
In addition, the glove has a decorative value in the work of stylists and make-up artists. It looks professionally on the hand. Made of natural leather and certified PVC material without the addition of silicone or in VEGAN version.
It is available in four sizes XS, S, M and L for right-handed and left-handed people.
CHOOSE THE RIGHT-HANDED VERSION IF YOU WANT THE GLOVE ON YOUR LEFT HAND.
CHOOSE THE LEFT-HANDED VERSION IF YOU WANT THE GLOVE ON YOUR RIGHT HAND.
How to choose the size?
It's best to choose the one you choose when buying other gloves (preferably leather). The given centimeters for sizes are measured from ankle to ankle. The glove has an adjustable strap with several holes around the wrist to make it easy to adjust the clasp.
*** The glove is the proprietary design of the Good LUCK company and is protected by copyright. Any copying is prohibited!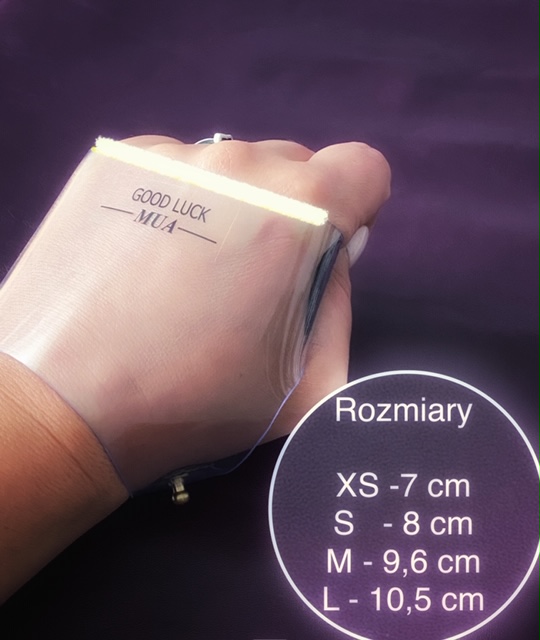 For left-handers (glove worn on the right hand)